5 a Side Football Edinburgh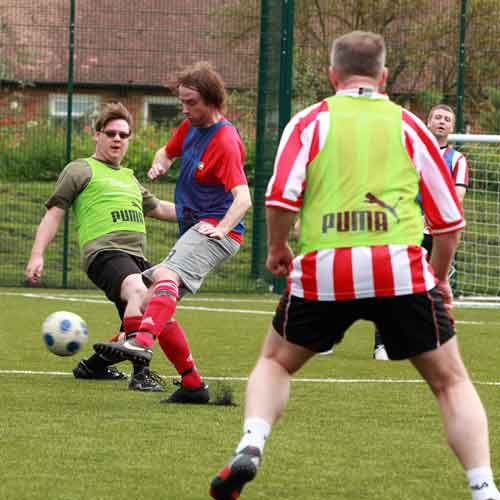 What's Included?
Your 5 a Side Footie session and price will include:
1 Hour Pitch Hire
Bibs & Ball (returnable £10 deposit)
Team Bus to and from event
All the kit you need to take part
More Information
5 A SIDE FOOTIE IN EDINBURGH
Dust off your Melchester Rovers away strip and become Roy of the Rovers for a day as you take on the lads at a game of 5-aside footie.
No stag do would be complete without playing a good old game of football the world's number one sport. There is nothing more British than having a kick about with the boys but make sure not to leave the boot in as we don't want any casualties early in the game.
Our great 5 a-side footie activity starts when you are picked up by your private team bus and whisked off to the hallowed turf. Then it school yard pick time as the captains pick their sides and hand out the bibs. Enjoy a great 1 hour session and burn off a few million calories before you head out on the town.
ED STAG TIP OF THE DAY
Some of our groups have booked footie early on Saturday and Sunday morning. This is not the best time due to the 34 pints consumed by the lads the night before. 5 a-side footie works better on Frdiay nights and in the afternoon at weekends. Does that make sense?.
TRANSPORT – Team Bus – Included
Our Fabulous 5 a side footie facility is located on the outskirts of the city which is around 20 minutes drive from city centre. To ensure you arrive in styke we have include return trave in our luxury mini bus.
£15 GB with return transport
*minimum number 10 Persons – Minimum Charge £150