Edinburgh Bierkeller – £25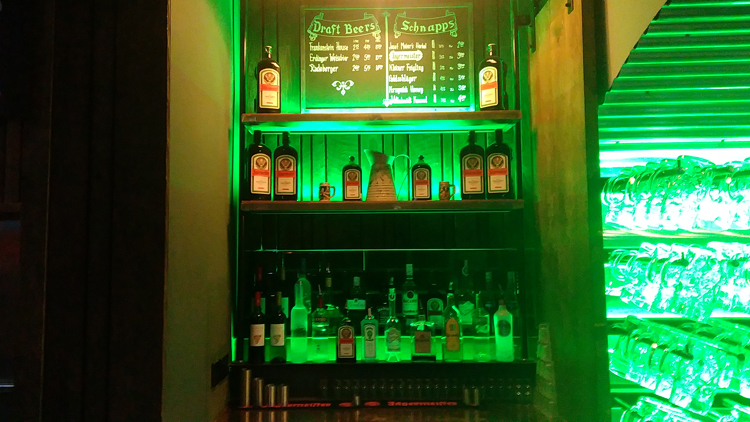 What's Included?
Free VIP entry
Reserved premium seating
Table service
2 pint Haus Stein or ½ pint Stein cocktail
Schnapps
Jumbo Bockwurst
More Information
Enjoy the Oktoberfest spirit all year round in Edinburgh newest Beer Cellar.  Dig out your black leather shorts!  and channel your secret Lederhosen Fetish as you head for our Bavarian-style themed beer hall.
Located in a converted church in Edinburgh's historic old town just 2 minutes walk from the Grassnmarket party zone.  Our unique Edinburgh themed bar has transformed its basement space into a likeminded German beer cellar (or bier keller if you want to be all German about it). Our package includes reserved seating for all the lads, a 2 Pint Stein, Shot of Scnapps and a Jumbo Brockwurst so thats dinner covered.
Girls if you're not a beer fan, there are other uber-German drinks for you to try. Stein cocktails come in three very dessert-y varieties – Ginger German (Jagermesiter, Amaretto, ginger beer), Schwarzwald (chocolate liqueur, cherry brandy, cranberry juice) and Apfel Strudel (apple vodka, cinnamon schnapps, cherry brandy, apple juice) – and there are also six types of schnapps to choose from, including the delicious Krupnik honey schnapps from Poland and, of course, the mighty Jagermeister.
In short, if you like German beer, German food, German music and Germany costumes – oh, we didn't mention the costumes? All the staff wear lederhosen – and you're not averse to a spot of table dancing, The Bier Keller is probably somewhere you want to check out. And even if you're only a fan of one of those things (we're gonna go ahead and guess the beer), it's probably still worth a look.
EDINBURGH STAG TIP OF THE DAY
This is the perfect choice to set the tone for Saturday night.  The atmosphere is fantastic, you have a reserved premium Seating so no line ups and a 2 pint Stein and Jumbo Bockwurst are included.  The Grassmarket party zone and many of the best bars, pubs and Lap Dancing clubs are all located in this area..
Prepare to get up on the tables and dance the night away…Pace yourself as the beers are huge and very potent. We are talking Authentic two-pint steins filled with stupendous German lager.  There's also a house lager (not included in your package) and a selection of bottled beers from Germany and Belgium, including Furstenberg, Vedett and Duvel.
The atmosphere is provided by the in-house oompah bad, who play every Friday and Saturday night. Between traditional German drinking songs and brassed up versions of pop hits (think Beyonce), they lead the crowd in sing-alongs (lyric sheets are provided), call-and-response chants ('oompah, oompah, stick it up your jumper') and frequent Oktoberfest-style toasts. Surprisingly, this isn't as abrasive as it sounds, and the music volume won't prevent you having a chat.